Featured Product: Essense Health Blend
|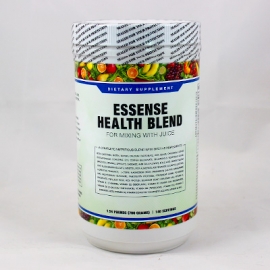 Essense Health Blend, our best selling multi-vitamin multi-mineral supplement, is a high-potency blend that contains 45 vitamins, minerals, enzymes, and other special nutrients.
The unique Essense Health Blend formula was originally developed by Dr. David Gregg, Ph.D. under the product name Krysalis Sparx. Dr. Gregg was a retired chemist and chemical engineer who committed his time to researching the illness and issues that haunt our society, and maintained a journal of his cancer research titled "The Proposed Common Cause and Cure for All Forms of Cancer".
Essense Health Blend is a great way to obtain the essential nutrition that you need every day all in one easy-to-use economical product. Each canister is a 4 month supply. That means it costs less than $20 per month…which is only 60¢ per day! Save money over buying multiple individual supplement capsules and pills.
Just mix 1 teaspoon of the Essense Health Blend powder into homemade fruit or vegetable juice. Add fresh fruits and vegetables for added nutritional value. As a special treat, you can mix Essense Health Blend in with yogurt, fresh or frozen fruit, and honey for a nutritious and delicious smoothie. Drink Essense Health Blend in the morning to get a jump start on your day.
What Our Customers Say About Essense Health Blend
I have been using the Essense Health Blend for about 10 years now and it is by far the BEST Product I have ever used. I am happy to say this product is time tested and exceeds all my expectations. This is a must have for ALL. I highly recommend this product.

– Deborah (Canada)
Great product for getting an overall blend of vitamins… good for everyone, but especially for those with health issues.

– Clinton (California)
Facebook Comments