Garlic Greens with Red Pepper Flakes and Pumpkin Seeds
|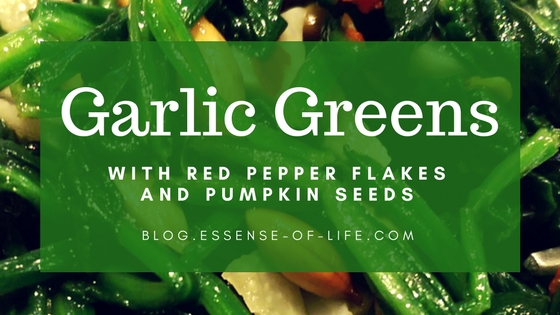 Everyone needs more magnesium in their diet and this dish is packed with this important mineral! These tasty greens can be served on the side as an accompaniment to fish or poultry, or can be served over a bed of quinoa and/or brown rice for a hearty vegetarian main dish. Spinach, swiss chard, beet greens, pumpkin seeds, quinoa, and brown rice are all very rich sources of magnesium, which is necessary for many vital functions in the body, including the absorption and use of calcium.
Garlic Greens with Red Pepper Flakes and Pumpkin Seeds
Recipe by Essense of Life
Serves 2

1 large bunch (5-6 cups) greens (spinach, beet greens, swiss chard, collard greens, or kale)
1/8 cup raw pumpkin seed kernels
1/2 tablespoon cold-pressed coconut oil
2 tablespoons extra-virgin olive oil
himalayan sea salt
4-5 large cloves of red garlic, crushed and chopped
crushed red pepper flakes
cooked quinoa or brown rice
Wash greens. Destem if needed and then tear or cut into bite-sized pieces. In small pan or skillet, heat the coconut oil until melted. Add the raw pumpkin seed kernels and cook until browned, stirring occasionally. Remove from heat, salt to taste, and set aside.
In a large skillet or wok, heat the olive oil. Once the oil is hot, add the garlic and a pinch of salt. Saute until the garlic just begins to brown, then add the greens. Stir continuously until greens begin to soften. Don't overcook – you still want the greens to maintain some of their bright color. Remove the pan from the heat, then add crushed red pepper flakes to taste. Serve immediately over a bed of cooked quinoa or brown rice, and top with the pan-roasted pumpkin seeds.
Share This Article With Someone You Know
Recommended Reading:
Magnesium: The Overlooked Mineral
Need more magnesium? Try Magnesium Max:
Magnesium Max Liquid Ionic Supplement
Facebook Comments