Alkaline Food Chart and Nutrition Handbook
|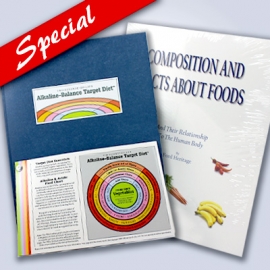 Ready to Start an Alkaline Diet?
Use these great references for eating more alkaline-rich foods every day. Our exclusive full-color laminated 9-paged Alkaline Food Chart contains alkaline and acidic food values for 300+ foods. The Raw Food Nutrition Handbook contains an additional 100+ pages of valuable nutrition information including suggested food combinations for optimum digestive health.

Healthy eating involves increasing the amount of fresh organic vegetables and fruits in your diet, eating raw whenever possible. Include more high-alkaline foods in your diet to balance your intake of any acid-forming foods such as meat, fish, dairy, nuts, and grains. Keeping that balance is the goal of an alkaline diet.

The Alkaline Food Chart Nutrition Handbook package includes:
• Alkaline and Acidic PRAL Food Values
• Over 300 Foods in 5 Categories
• Full-Color Laminated 9-Page Chart
• Refrigerator Magnet: Foods to Eat / Foods to Avoid
• Daily Log Sheets for Tracking Diet Changes
• Potassium-Rich Foods Chart
• High-Tyramine Foods List
• Bonus: Includes $15 in Coupons

The Nutrition Handbook includes:
• Alkaline and acidic food list
• Mineral, vitamin and amino acid content
• Fatty acid, carbohydrate and protein content
• Digestion time
• Diagrams illustrating digestive processes
• Suggested food combinations

Special Offer – Save $15!
Get both the full-color Alkaline Food Chart Nutrition Handbook for a special price of just $44.95. Supplies are limited, so get yours today!

Buy Now


What Our Customers Say…
This information can be life changing and life saving. I am a gardener and know how important it is to balance the PH in your soil. Why not your body. I safe guard my chart. It is one of my best prizes.

– Trainman (Washington)
Facebook Comments