Super Alkaline Green Smoothie
|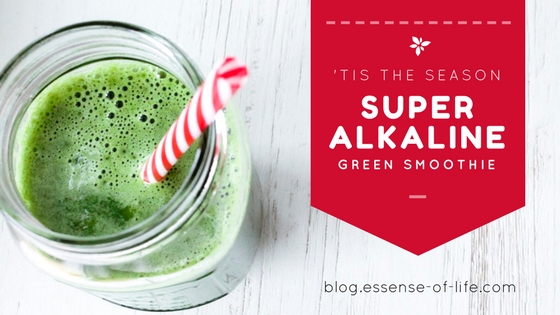 This time of year, we all need to get a little more green in our diet every day. During the holidays we tend to eat more acid-forming foods than we should, and we need to neutralize those excess acids by eating more alkaline-rich foods. This means eating our veggies! Vegetables and fruits are the most alkalizing of foods, and this Super Alkaline Green Smoothie is packed with alkalizing goodness. What a tasty way to stay alkaline the whole year long!

Super Alkaline Green Smoothie
Recipe by Essense of Life
Serves 2

1 each Banana
1 medium Green Pear, core removed
1 cup chopped English Cucumber
2 small stalks Celery
1 large Lemon, juiced (3-4 Tablespoons)
1 inch Ginger, peeled
2 cups mixed Greens (Kale, Spinach, Beet Greens, Collard Greens, Swiss Chard, etc)
1 cup Coconut Water, chilled
1 teaspoon Spirulina powder
2 scoops Essense Health Blend, optional

Blend all ingredients together.
Makes two 16 ounce drinks…enjoy!

This article is copyright ©2018 Essense of Life, LLC. All rights reserved. Do not copy without permission.
This information is not medical advice and is certainly not intended to replace the advice or attention of your personal physician or other healthcare professional. Therefore, consult your doctor or healthcare professional before making any changes to your diet or starting a supplement program.
Share This Article With Someone You Know
https://blog.essense-of-life.com/featured-product-the-alkaline-balance-food-chart/
Alkaline Food Chart

How Do I Test My pH Levels? Understanding pH
Eat, Drink, and Be Alkaline: Alkaline Diet Tips for the Holidays

Eat, Drink, and Be Alkaline: Tips for the Holidays
Facebook Comments