Get Your Veggies Green Soup
|
This delicious vegan green soup recipe is a great way to maximize your calcium intake. Calcium? Did you say Calcium? You probably didn't know that milk is not the best source of calcium…the calcium content of many plants is actually more bioavailable than the calcium found in dairy products! These nutritious plants contain an abundant source of the magnesium, vitamin D, and vitamin K that the body needs to increase its calcium absorption.
---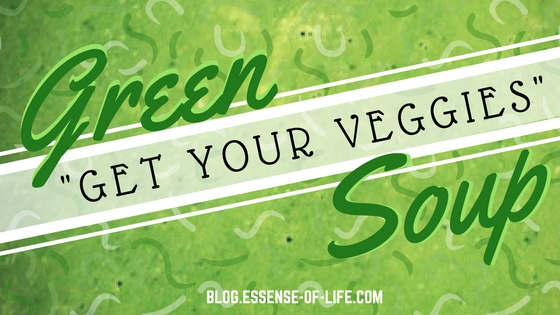 ---
This tasty green soup is a great way to warm up on a cold winter day. Not only is it full of vegetable goodness, it is also rich in Calcium! Leafy greens such as Kale, Collard Greens, Turnip Greens, and Bok Choy are some of the best sources of dairy-free calcium in the plant world. These plants are also rich in Magnesium and Vitamin K as well, which are needed for proper calcium absorption. You will need a large pot and a blender to prepare this soup. We recommend the Cleanblend Smoothie Blender, which has a powerful 1800w motor that can keep up with all of your blending needs.

Get Your Veggies Green Soup Recipe
1 Tablespoon Coconut Oil or Olive Oil
1 medium Onion, chopped
3-4 cloves Garlic, minced
2 small Zucchini, chopped
1 head Broccoli, chopped
2 cups Leafy Greens*, chopped (stems removed if desired)
*Choose calcium-rich greens like Kale and Collard Greens
32 ounces Vegetable Broth
Salt and Pepper to taste

In a large soup pot, heat the oil and saute onions over medium heat until they soften. Add the garlic and cook a few minutes longer. Increasing heat to medium high, start adding the chopped zucchini and broccoli, alternating each addition with some of the vegetable broth. Continue cooking until the vegetables are soft. Add the remaining broth together with the leafy greens. Once the greens have wilted down, turn off the heat and carefully ladle the hot soup to your blender. You may need to do in batches if your blender is small or lower powered. The soup will be very hot, so be careful. Puree until smooth. If mixture is too thick for your taste or is hard to blend, you can add a bit more broth or water. Once blended, return soup to the pot, place over low heat, season with salt and pepper to taste, and serve.

Make Your Clean Green Soup with the Cleanblend Smoothie Blender!
The
Cleanblend Smoothie Blender
is a high performance, commercial-grade blender for deliciously healthy living. ON SALE NOW! Impressively powerful 3 horsepower, 1800w motor that keeps things running—and blending—smoothly. Oversized, virtually unbreakable 64-ounce BPA-free container that holds all the fruits and veggies you can handle and is a cinch to clean. Stainless steel enclosed blade assembly with a sealed ball bearing ensures the entire blender is strong and sturdy. 5 Year Warranty included so you can blend easy knowing your
Cleanblend Smoothie Blender
is ready for any recipe you can imagine.
Share This Article With Someone You Know

Crucial Calcium (Without the Cow!): 13 Dairy-Free Sources of this Important Mineral

Garlic Greens with Red Pepper Flakes and Roasted Pumpkin Seeds


This article is copyright ©2019 Essense of Life, LLC. All rights reserved. Do not copy without permission.
This information is not medical advice and is certainly not intended to replace the advice or attention of your personal physician or other healthcare professional. Therefore, consult your doctor or healthcare professional before making any changes to your diet or starting a supplement program.
Facebook Comments