Super Alkaline Green Smoothie
|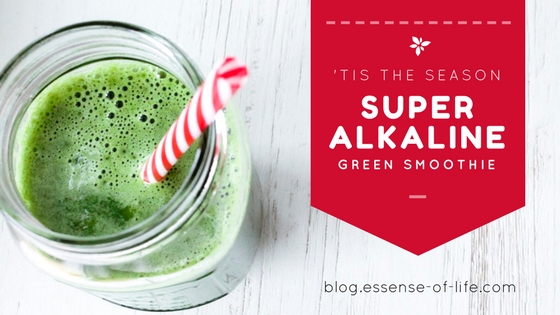 This time of year, we all need to get a little more green in our diet every day. During the holidays we tend to eat more acid-forming foods than we should, and we need to neutralize those excess acids by eating more alkaline-rich foods. This means eating our veggies! Vegetables and fruits are the most alkalizing of foods, and this Super Alkaline Green Smoothie is packed with alkalizing goodness. What a tasty way to stay alkaline the whole year long!
Super Alkaline Green Smoothie
Recipe by Essense of Life
Serves 2

1 each Banana
1 medium Green Pear, core removed
1 cup chopped English Cucumber
2 small stalks Celery
1 large Lemon, juiced (3-4 Tablespoons)
1 inch Ginger, peeled
2 cups mixed Greens (Kale, Spinach, Beet Greens, Collard Greens, Swiss Chard, etc)
1 cup Coconut Water, chilled
1 teaspoon Spirulina powder
2 scoops Essense Health Blend, optional

Blend all ingredients together.
Makes two 16 ounce drinks…enjoy!